Were you googling for the answer to the question "date ideas Krakow" and ended up here? Well, we've got it for you so you can close the other tabs. Enough of these walks, hiking trips, candlelight dinners, looking at old stuff in museums and hanging padlocks on bridges. Time for something exciting!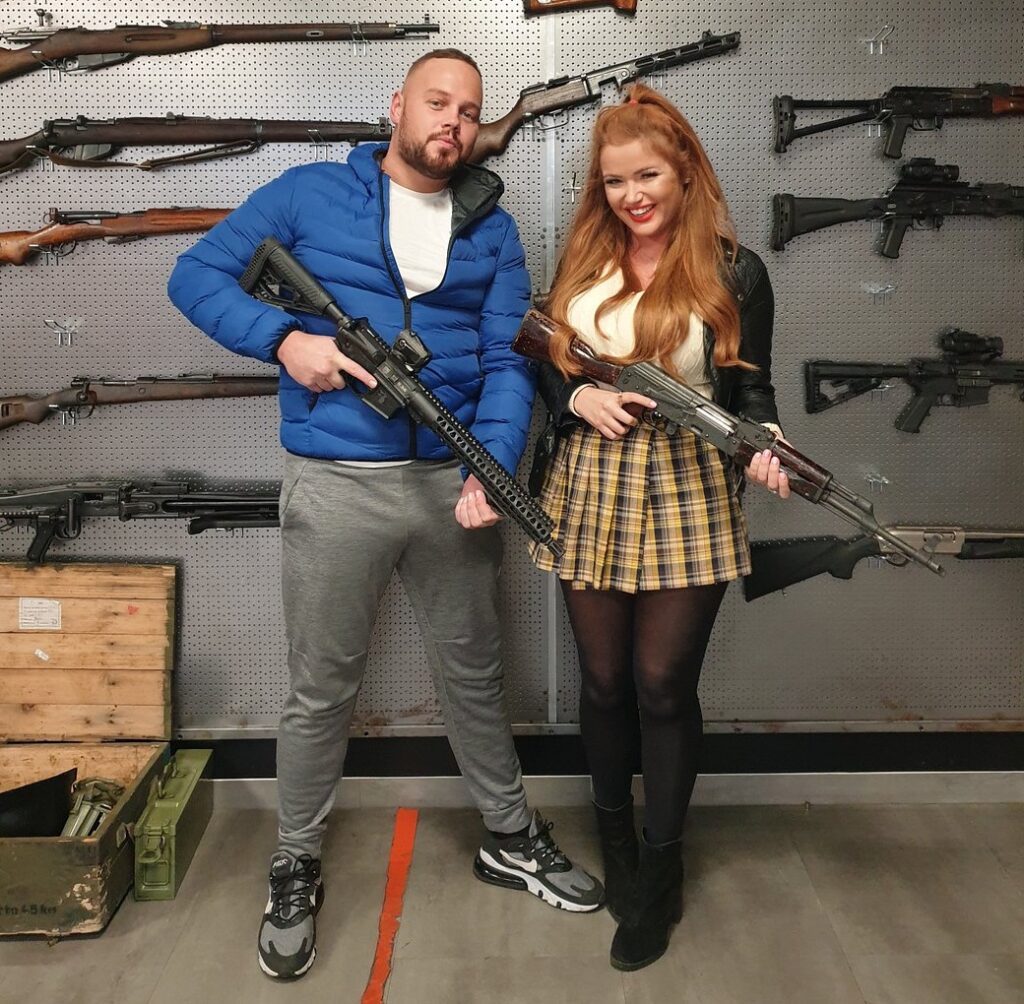 Date ideas during your stay in Krakow
Krakow dating is a matter that offers millions of combinations, but if a date is supposed to be unique, it must offer something that will make it remembered for longer. And here – adrenaline comes in. You don't need to bungee jump or skydive right away. The best idea will be something exciting but done in a fully controlled and safe environment.
A visit to the Cracow Shooting Academy is exactly that. A huge part of our clients are couples, regardless of whether they are on the first date or with many years behind their backs. A joint experience of healthy and safe competition, and even loose but exciting recreation during a date in Krakow, will definitely bring you closer to each other.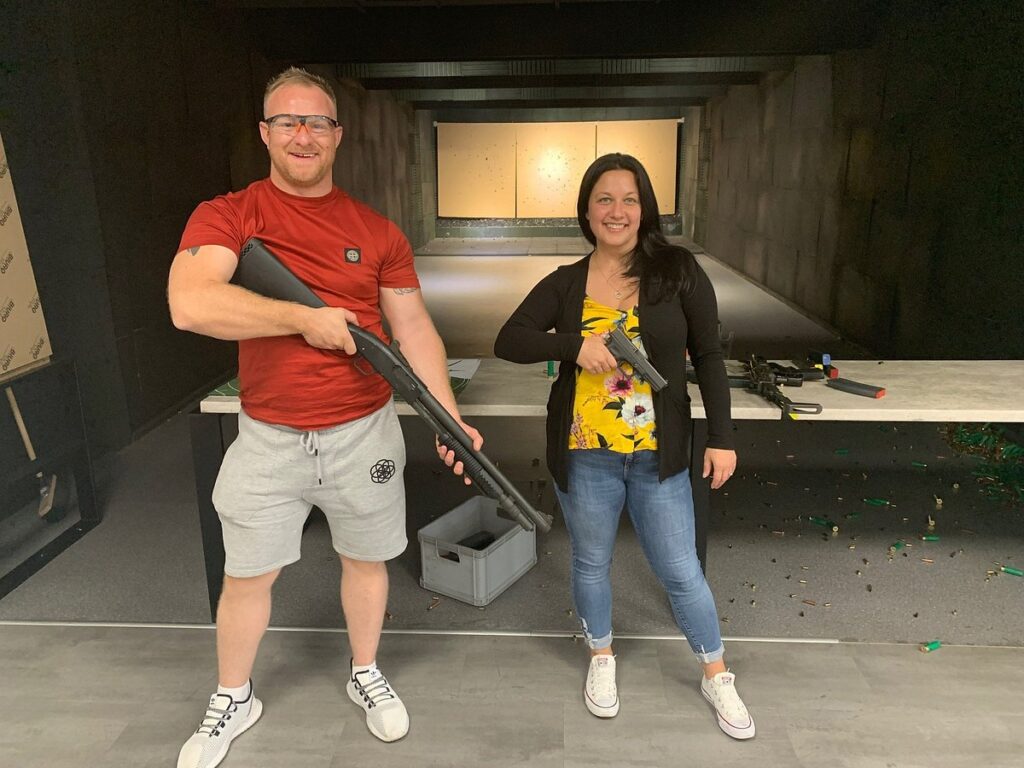 Complete comfort and safety
At our shooting range, we care about the complete mental and physical comfort of the client throughout the entire experience. The facility where the shooting range operates is modern and comfortable. When you open the door you see a waiting room with comfortable sofas, clean toilets and air conditioning /heating. This stands in opposition to many other facilities that show signs of many years of use or where location and infrastructure do not allow for full comfort.
Dozens of choices!
When you'll walk into our waiting room, you'll being greeted at the reception desk by an adviser. He will help you choose the right shooting packages from among the seven prepared by us, or complete individual packages, if you already have some ideas. We offer several dozen different models of weapons, so the appropriate selection of the package is important for the first timer. Remember that this is a date, not a competition, everyone has to feel comfortable and not overwhelmed. We want both of you to leave with only the best memories.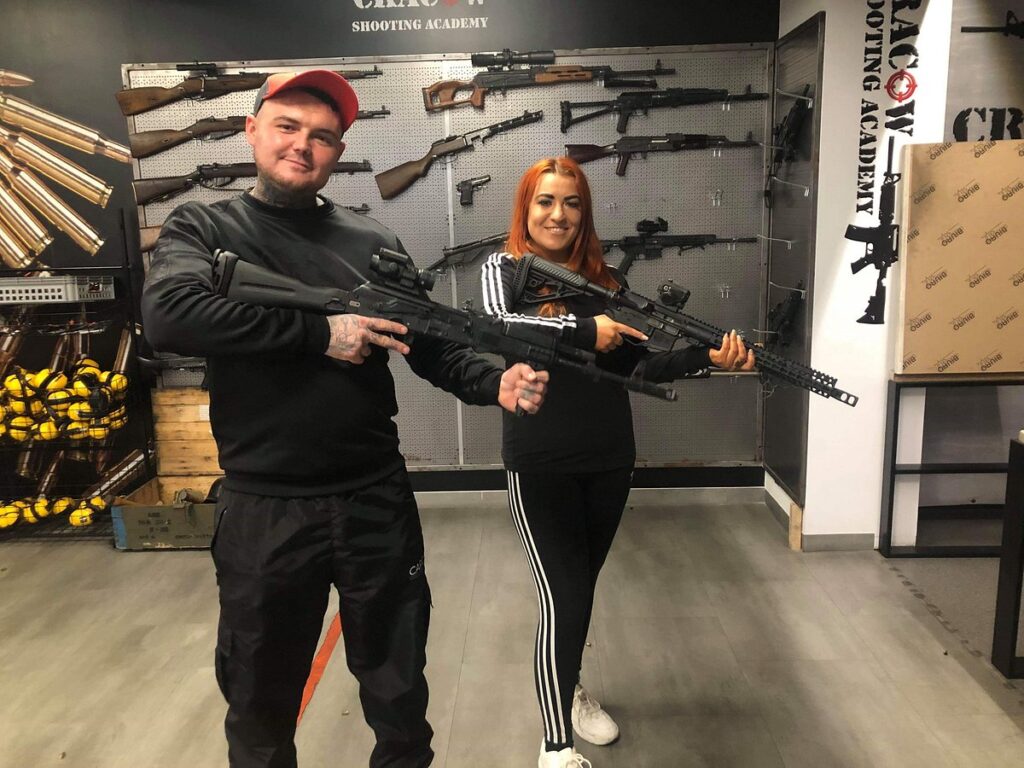 Protective gear ON
After choosing the guns, you will be invited to relax on the couch, and after a few minutes, the instructor will invite you to enter the shooting range through the soundproof airlock separating it from the waiting room. There you will participate in a safety briefing, during which you will learn exactly how to correctly and safely use the selected weapon models.
Then you will be equipped with eye and hearing protection, i.e. headphones and glasses. Let's be honest – guns are loud, and while they're fired – cartridge cases are flying around. So safety gear is necessary to ensure comfortable fun. After this stage, it's time to shoot.
Safety OFF
During the entire shooting session, you will be accompanied by an experienced instructor who will help you handle the firearms, make sure you follow the safety rules, check the shooting posture and correct any mistakes as you go. You will take turns to shoot so that the experience lasts longer, to give you time to take some photos of the other person shooting,
and not to overwhelm you with excitement. Also keep in mind that in many cases the firearms are quite heavy, so the breaks will offer a bit of resting time.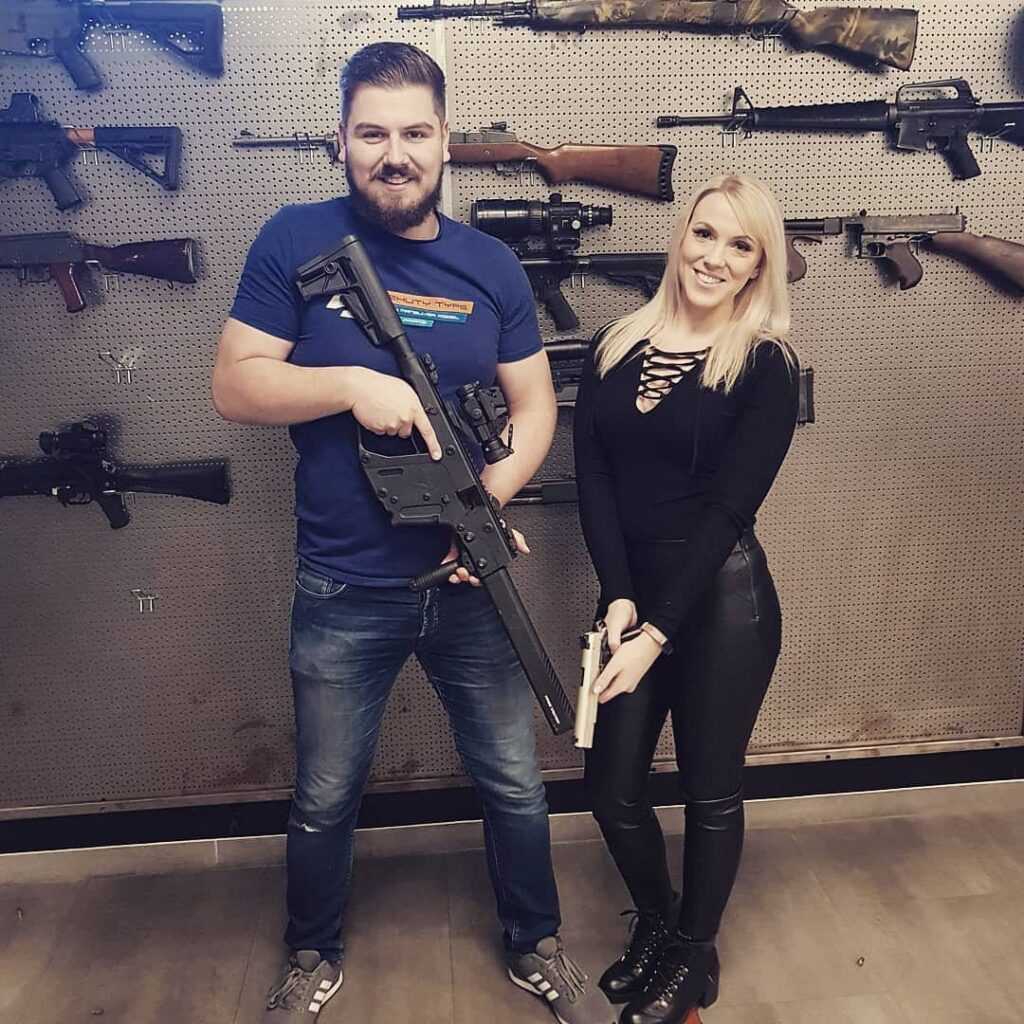 A thing to remember for long
When the cartridges run out, the instructor will discuss the shooting results on request and show which shots were fired from which weapon. Of course, you can keep the targets as a souvenir, and while we are talking about souvenirs – the instructor will be happy to take posed photos of you with weapons or said targets. Of course, against a suitable background, i.e. a wall of guns that you are not holding at the moment. As a souvenir, you can also take the empty shells of the cartridges you fired.
Best idea for dating in Krakow!
We assure you, based on many years of experience, that a date in Krakow at a shooting range is a great idea that, based on shared emotions, will bring you closer to each other, fill you with endorphins and enrich the arsenal of topics for conversation for the rest of the evening. Finally, it should be emphasized that it is not the shooting itself that counts, but the entire experience surrounding this activity. At Cracow Shooting Academy, the highest quality, comfort and safety in every respect await you.