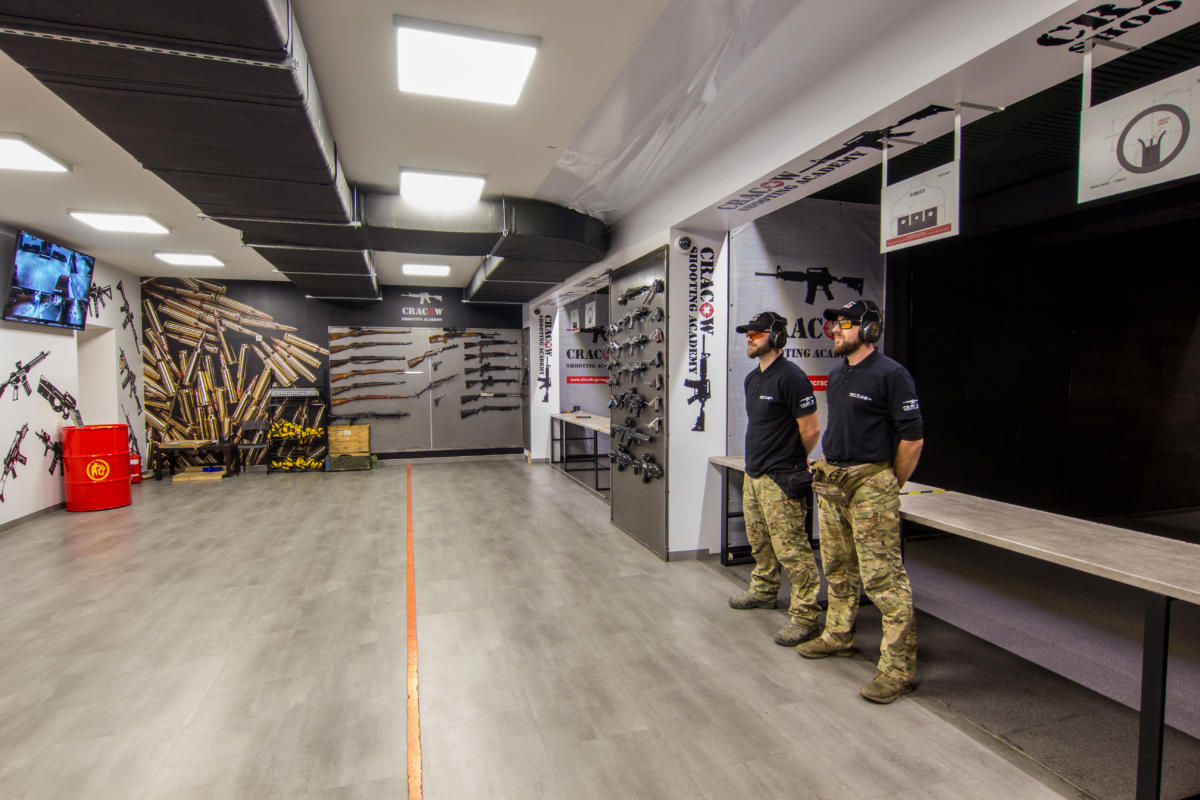 Cracow Shooting Academy is a company that offers a wide variety of shooting activities using real firearms. Our clients can choose from options for individuals as well as groups. Shooting sessions in our facility can have either a recreational or an educational character. Group attractions include bachelorette or stag parties and teambuilding events for clients from around the world.
Our shooting range in Cracow is located in a new, modern facility established in the second half of 2019 at Jana Surzyckiego street just 6 km from the city center. Our air conditioned and efficiently ventilated waiting room and shooting area are set up to provide maximum comfort. A modern bullet trap and professional staff provide complete safety while operating live firearms.
Clients can choose from a wide variety of weapons included in pre-set packages, none of which require any previous experience. People interested in a particular firearm can construct their own package based on the list of weapons present on our website. Furthermore, our guests can expand their packages right after finishing it, by informing the instructor and choosing from the guns available in the shooting area – including those not present in the shooting packages.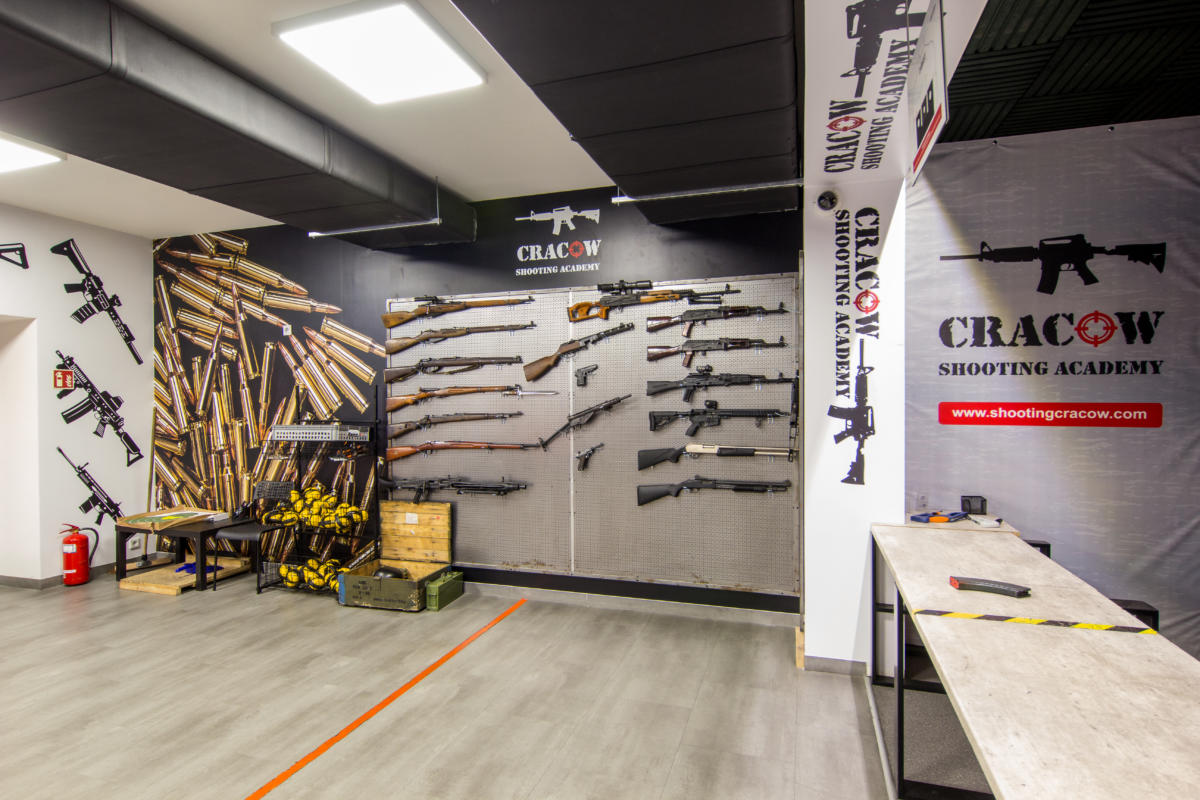 To maintain the highest standard of service, every time the shooting starts, the instructor performs an extensive presentation in Polish or English, including safety rules and explanation on how to handle every model included in the packages chosen by the clients. Our instructors take care of the guests from the moment they enter to the moment they leave the shooting area, providing assistance and correcting any mistakes while shooting.
Except from recreational activities, Cracow Shooting Academy offers a variety of weapons handling courses with different levels of advancement based on extensive experience of our instructors. From amateurs to experienced shooters, anyone can learn the basics or polish their skills in practical sport shooting or defensive use of firearms.
Cracow Shooting Academy provides several dozen types of firearms to choose from. From semi-automatic pistols in sporting or combat variants, revolvers in a couple of calibers, submachineguns, assault rifles, designated marksman and sniper rifles, pump-action and semi-automatic shotguns, and even machineguns.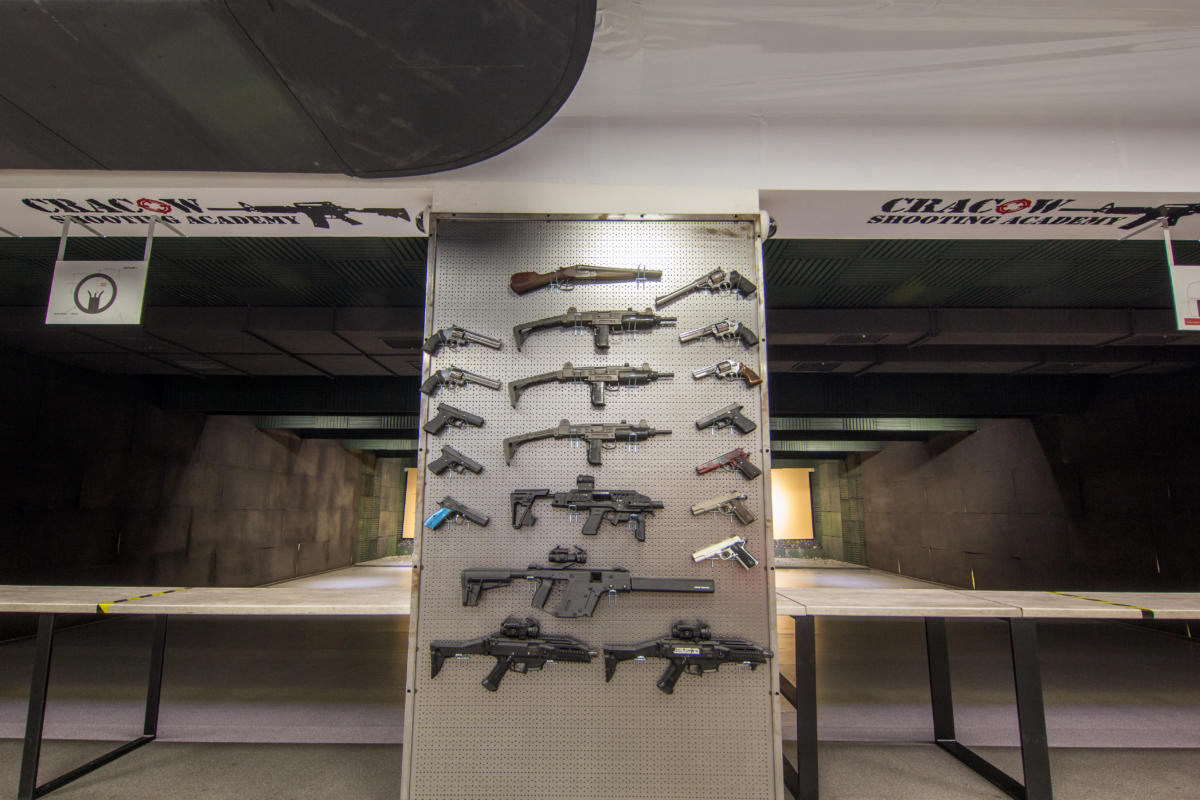 Our arsenal consists of modern firearms, models from the cold war era, as well as historic examples that took part in conflicts around the world including, the Vietnam War, World War 2 and the Great War. So anyone – a complete amateur, gun enthusiast or even a historian will find in Cracow Shooting Academy something for themselves.
It's our duty to inform you, that in accordance to Polish law, all weapons available for our clients are either bolt-action or semi-automatic firearms unable to fire in bursts or fully automatic.